Products >
Exhaust Fans >
Utility Sets >
T-RE
T-RE

UP-BLAST CENTRIFUGAL UTILITY SET
Air Volume: 100 – 8,000 cfm
Maximum SP: 5" wg. @ standard air density
Ideal for high temperature, heavy grease applications
Curb mounted design for easier installation
Ventilated motor housing for motor, shaft and drive protection
Adjustable motor plate assembly
Tilt out wheel – easy access during maintenance, automatic safety lock with manual release
Interlocked disconnect switch
Non-overloading, welded aluminum backward inclined wheel is statically and dynamically balanced and permits usage on high static pressure applications
Heavy duty bearings in excess of 200,000 hours of operation
Motor base and shaft seals provide a double layer of protection to eliminate water leaks into the building and grease build-up on motor
2" grease drain fully welded onto discharge elbow
Lock and retaining pin - keep wheel centered over the inlet
Optional Rain Cap Assembly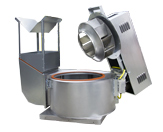 Thermotek certifies that Models T-RE11 through T-RE24 shown herein are licensed to bear the AMCA seal. The ratings shown are based on tests and procedures performed in accordance with AMCA Publication 211 and Publication 311, and comply with the requirements of the AMCA Certified Rating Program.

Models T-RE11 through T-RE24 have been certified by ITS. This certification mark indicates that the product has been tested to and has met the minimum requirements of a widely recognized (consensus) U.S. products safety standard, that the manufacturing site has been audited, and that the applicant has agreed to a program of periodic factory follow-up inspections to verify continued performance.

Models T-RE11 through T-RE24 are ETL Listed under file numbers 103336443COL-001 and 102628244PRT-001 and comply with UL705 (electrical), UL762, and ULC-S645 Standards and CSA Std C22.2, No 113.